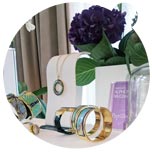 Freywille presented 3 premieres: Jewelry without art pattern, rosé gold items and a perfume duo composed to harmonize between him and her. Fashionoffice took snapshots...

'Woman in Gold' by Kilian pays homage to Gustav Klimt's portrait of art patron Adele Bloch-Bauer The glamorously shining fragrance-time-travel premieres on...

Wash bags with 19th/early 20th century inspired prints by British stationery and gift brand 'Chase and Wonder' The wash bags 'Flower Lady' and 'Manners Maketh Man'...

Fashionoffice autumn 2017 tip: Inspired by graphical art!
With clothing, shoes, jewelry, beauty like the lip powder by Clinique, remixable items by Swarovski,...

Fashionoffice autumn tip for urban style: Chic with digital equipment and high-performance beauty Fashionoffice looked through the new autumn collections...

Londontown A/W 2017 nail colors are inspired by the nature and people's activities at Hyde Park, London 'Silver Birch' captures the morning haze over the grass of Hyde Park...