Fashionoffice autumn 2017 tip: Inspired by graphical art!
With clothing, shoes, jewelry, beauty like the lip powder by Clinique, remixable items by Swarovski,...

Wash bags with 19th/early 20th century inspired prints by British stationery and gift brand 'Chase and Wonder' The wash bags 'Flower Lady' and 'Manners Maketh Man'...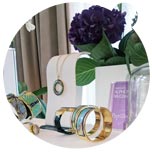 Freywille presented 3 premieres: Jewelry without art pattern, rosé gold items and a perfume duo composed to harmonize between him and her. Fashionoffice took snapshots...